Enabling Predictive Maintenance through Smart Surfaces
LAIIER's vision is to become the 'Intel Inside' of smart buildings. Embedding our technology into the structure and infrastructure of the built environment
---
On October 6th, I spoke at the Smart Buildings Show in London. The topic of my talk was LAIIER technology.
This technology enables predictive maintenance with smart surfaces. These surfaces can be installed like stickers and tape. LAIIER had the opportunity to discuss their current activities in the smart building sector. Additionally, they discussed their vision for scaling printed sensor technology in smart building construction.
LAIIER's vision is to become the 'Intel Inside' of the smart building. Embedding our technology into the floors, walls, pipes, and infrastructure of the built environment. The key to realizing this vision is becoming essential to the digitization and market growth of our largest customers. We have worked over the last 18 months to develop the ecosystem, relationships, approach and IP to make this inevitable.
LAIIER's future success and exit potential hinge on us forming strong and lasting ties with the materials and chemical industries. We must be able to make deep and irreversible connections with these industries in order to reach our goals. This happens in the context of dynamic industries and two major stages of engagement as described below.
Construction, IoT, and the Materials and Chemical Industries
Construction is the largest industry on earth, with a chronic productivity problem. The $10T construction industry is investing in IoT and connectivity to improve productivity and margins. This is expected to make IoT in construction worth $16B by 2024.
The IoT industry has seen potential in the smart building and construction industry. It is estimated that smart buildings will be worth $106B by 2024. Building automation is also growing rapidly at a CAGR of 42%.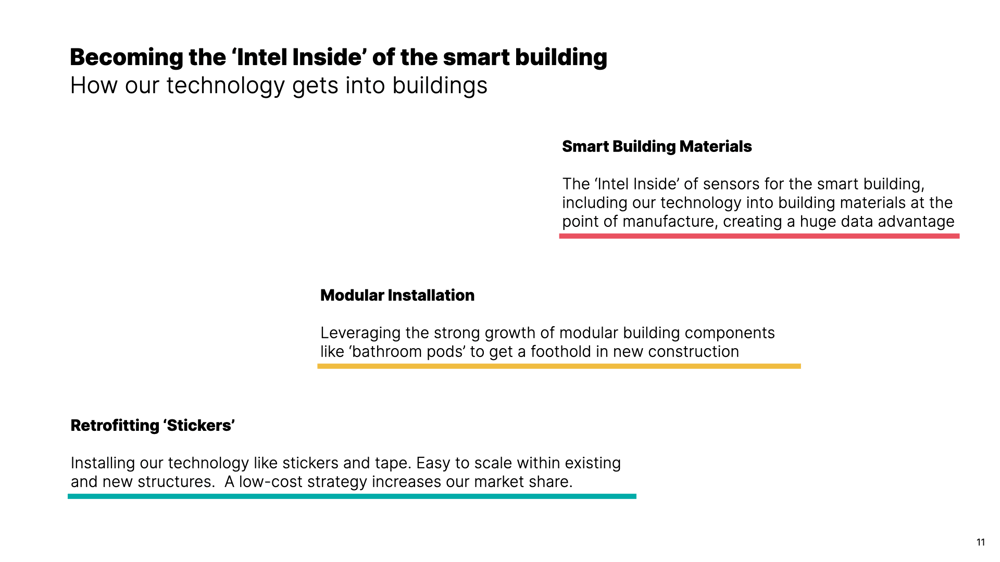 But there is an important gap between the ultimate demand of the construction and IoT industries. In order to serve these opportunities, two things must happen.
Sensor costs must plummet, and installation must be infinitely easier or non-existent. Sensor technology must install itself as the structure is built. The chemical and materials industry is perfectly positioned to take advantage of this opportunity with the right partnerships.
Early on, we recognized that the companies producing the conductive inks and substrates we used also made building and construction materials. They created two different sets of ingredients for a powerful collection of digital products. However, they lacked the expertise to link them together. This is where LAIIER provides exceptional value.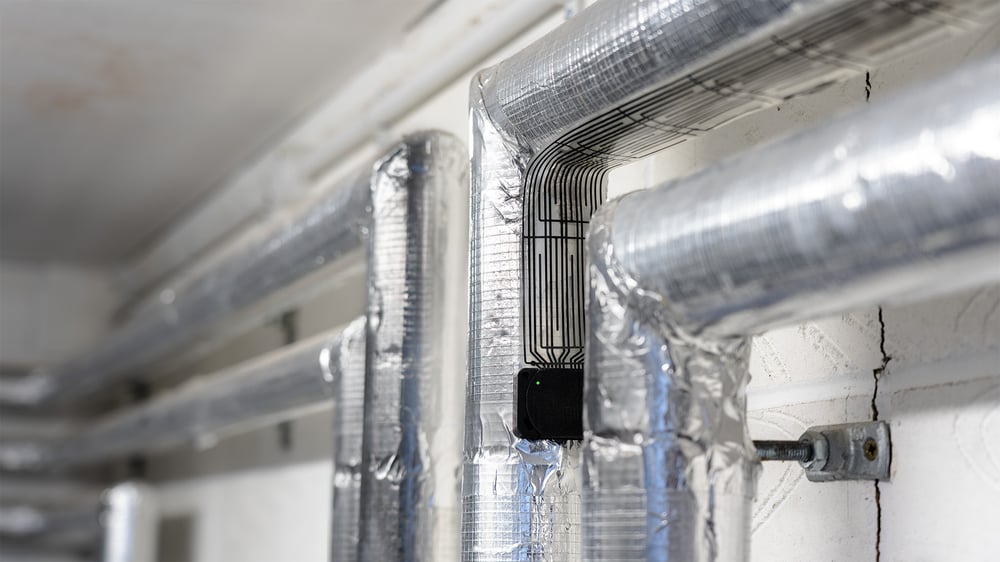 From retrofitted 'stickers' to Smart Building Materials
LAIIER is launching easily retrofitted products, which create quick scale, demonstrate efficacy and generate revenue. The insights from this stage help us to onboard partners in the modular stage.
Companies such as SurePods, Blox, Durapods and B&T show there is a large demand for manufactured bathrooms, offices and hotel rooms. Trade groups like the Modular Building Institute also confirm this demand. Our technology is significantly easier to install using a modular approach. This is in contrast to traditional building construction.
The last step in our development is incorporating our technology into construction materials. We are introducing these future partners in two steps. Details are outlined below.
Demand creation for specialty products from the materials and chemical industries
LAIIER must create value for chemical and materials companies to be successful in our long-term strategy. This value must align with their current business models and objectives. These models and objectives are almost exclusively based on material consumption.
LAIIER must initially generate demand for specialty materials. This will excite our partners in the chemical and materials industry about what we are developing.
Our products use electrically conductive ink, adhesives, and substrates. These products create new use cases, expanding on existing markets and creating new ones. We focus on smart buildings instead of automotive or textiles. This has the added advantage of consuming large amounts of material, which is very desirable.
Companies like Henkel, PPG, DuPont and 3M are all manufacturing specialty materials that we can leverage in our solutions. The strength of our relationships with these companies demonstrates their shared vision in the first stage of our evolution. Their expectation is for us to consume large amounts of material and grow their business into new use cases.
They are generous in their support of this effort. They provide extensive technical resources, samples, industry connections and internal advocacy in their organizations. This serves as evidence of their support.
As LAIIER is growing, we plan to collaborate with partners and create new use cases and opportunities. Our partners will be rewarded for promoting and expanding these opportunities.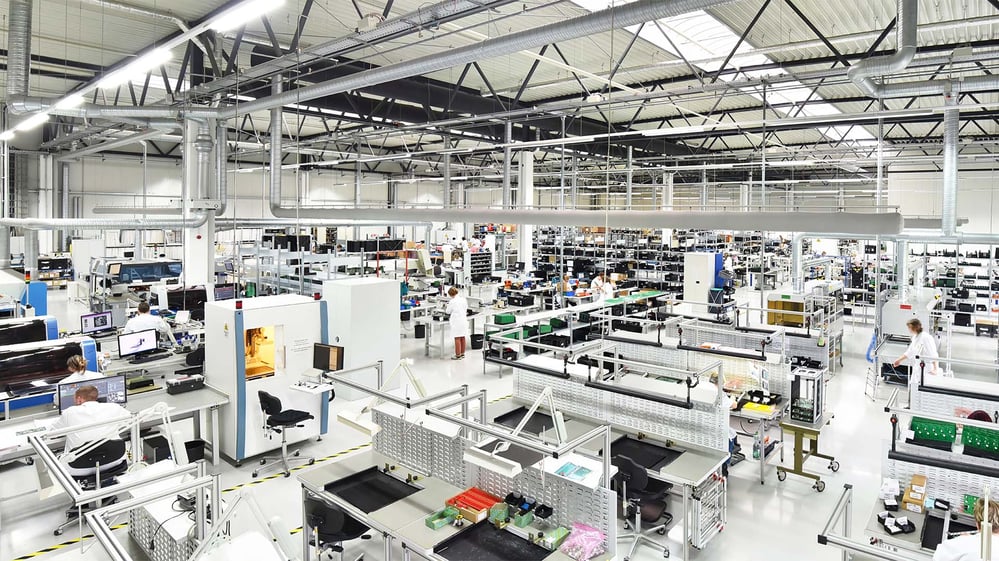 Deep integration into high-margin digital-enabled products
LAIIER will grow in three phases. The first is Retrofitting, then Modular Installation. Finally, we will reach Smart Building Materials. Our goal is to become the Intel Inside of the smart building.
The goal is to embed our IP into the very materials that we construct our buildings from. We'll work with our partners to create a smart skin, which makes a building smart as it is built. This vision will bring Construction, IoT, and the Chemical and Building Materials industries closer together. This will create great value.
LAIIER will bring this vision to life through IP and partnerships. In Stage 1, LAIIER is leveraging the specialty materials of partners like Henkel, PPG, DuPont, and 3M. In Stage 2, LAIIER will connect these specialty materials to the business units at these multinationals which already manufacture building materials. Instead of creating a retrofitted water leak sensing sticker, we will create a building membrane with integrated water leak sensing.
LAIIER is creating smart building materials. This is creating demand for specialty materials and opening new use cases. Most importantly, the digital lever helps to avoid commodification and increases margins significantly.
The combination of these three components will make LAIIER an indispensable component of billion-dollar business units. Our IP and connectivity is the critical, single bridge between two sets of commodity products (specialty materials and construction materials) and a set of high-margin, digitally-enabled smart construction products.
Companies understand the trend of collaborating with startups. They have created internal business units to build this bridge. Evidence shows this is already happening. Henkel's MRO 4.0 team, DuPont's Smart Materials Business and AkzoNobel's Surface Activation team are all great examples, formed within the last 18 months.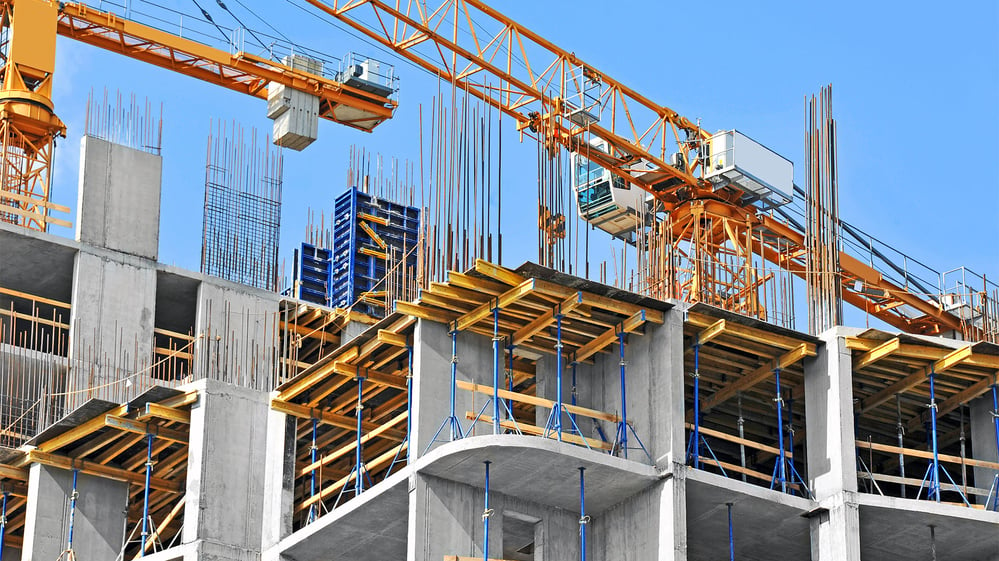 The digitization of a $4T industry
The chemical and materials industry is worth almost $4T and like construction is on a drive towards digitization. Digitization for chemicals and materials is generally seen within three buckets, material R&D, sales and marketing process, and use cases. LAIIER is exclusively focused on the development of new digitally-enabled use cases for this massive industry.